Our Job? Making Your Jobs Easier!
E-Commerce Empowers You to Work Faster, Smarter and Better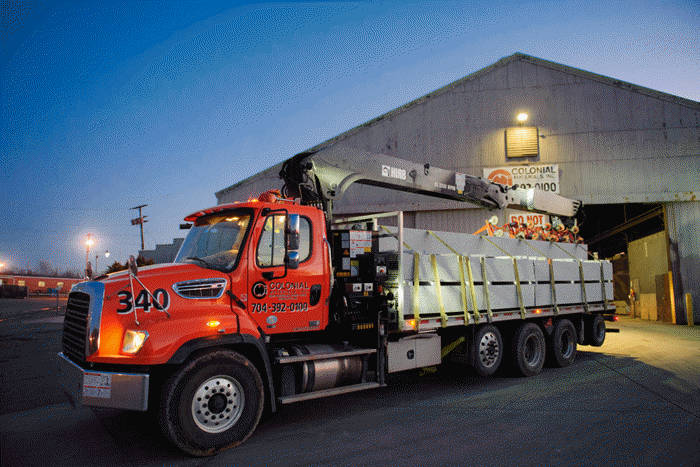 Pay online, get invoices, account pricing, pay online & much more
At Colonial Materials, we've been helping construction professionals across North Carolina and parts of South Carolina since 1984. We have ten conveniently located yards including nine in North Carolina (Cary, Charlotte, Pleasant Garden, Winston Salem, Wake Forest, Fayetteville, Jacksonville and Wilmington) and one in Fort Mill, South Carolina. In that time, a lot has changed, but our commitment to customer service never has, and never will.
In these particularly challenging times, we're even more focused on helping customers streamline their operations and continue to deliver quality results. One of the best tools we have for this crucial job is our e-commerce website (https://www.colonialmaterials.com/).
Find and get what you need when you need it
Customers with credit accounts can sign up today by requesting a company account for you and your employees. You will get access to a wide variety of time-saving features currently on our e-commerce site, including the ability to:
Pay bills online (ACH only) – review your outstanding invoices and make payments 24/7
Check inventory – find out in real-time if the products you need are in stock at a location near you
See account pricing – for a specific job or your everyday pricing for any of our products
Get invoices – review your past orders, download them to your computer or print them out
Review shipments – search by job ship-to/location, date/aging or invoice number
Delivery notifications – see when the truck has left the yard, when it's on its way to your jobsite and images of the actual delivery
Manage employees – allow your employees to see only what they need by assigning specific user roles
Here to serve our customers
We're continually updating our site, to offer you even better service and greater value. Future features we're working to bring you include:
Online order placement – from our entire inventory of products
Create custom lists – quickly reorder your mostly frequently purchased items, in just three easy clicks
Quote requests – anytime, anywhere and from any device for all your future projects
Proof of delivery images – see photos of actual deliveries at your jobsites, for greater assurance and peace of mind
You're busy; we get it. That's why Colonial goes the extra mile when it comes to customer service. Our goal has always been to provide you with all the tools and materials you need to succeed. Now, our e-commerce site supports the same goal – providing a single source that gives you anytime, anywhere access to all the important information about your orders with us.
Get Your Online Account Now
Don't wait. Start optimizing your operations today. Customers with credit accounts can email us at sales@colonialmaterials.com to get started! And as always, thank you for your business!
Colonial Materials
We service the state of North Carolina, the Charlotte metro area and all regions to the east, and the Rock Hill area of South Carolina. Our employees pride themselves in being hard working, safe, and professional in their key roles and are the backbone of our success as a company. Great employees and great brands all made Colonial Materials the building materials distributor of choice.